Dirty Jane Ambassador Megan Zemny, an accomplished Professional Gravity Mountain Bike Racer,  is also 1 of 4 Founders of the California Enduro Series, a globally recognized mountain biking event series that quickly grew to fame in just two years.  Additionally, Megan is a board member & Co-Director of the Santa Cruz Super Enduro, the race with the roots of the California Enduro Series: the Santa Cruz Mountain Bike Festival.  In this Inspiring Interview, Megan gives a little background how she got into creating such an epic all-volunteer run event series, the events greatest supporters, and what we can look forward to in the future of CES.
LBC: You have a pretty well traveled racing background, what got you into this lifestyle?
MZ: I fell in love with mountain biking when I was training to race MotoX about 10 (2004) years ago.  I love the refreshing smell of mountains with the fresh dirt and tree scents.  I've always been a thrill seeker my whole life.
LBC: Out of your 10 years of cycling experience, which race course (any type) was your favorite and why?
MZ: Downieville Classic.  It was the hardest with the challenging climb, but so much fun on the. descending. Now if it was my favorite place to ride that would hands down be Whistler and Santa Cruz.  So Epic!
LBC: When and why did you become involved with event planning? What inspired the creation of CES?
MZ: I've always have been involved with planning events since I was younger.  I created and ran many events through college including a week long sporting event for the greek system at CalPoly, SLO called Greek Week.  I loved creating fun events with friendly competition for everyone to enjoy.  I have to say one of my favorite events I started was the Santa Cruz Mountain Bike Festival going into its 6th year in 2015, which lent a handing in the launch of the Santa Cruz Super Enduro race.  These events led me into the path to helping found and direct the California Enduro Series.  This series is filled with the most amazing people and community, they are like family.
LBC: Which CES sponsors is your biggest supporter and how?
MZ: VP Components.  Erik Saunders is one of our founders is a great supporter.  Other big supports are Marin & Kenda.
LBC: Pardon me for the personal question, but are you paid? If you aren't, what satisfies you about this job, why do you keep doing it?
MZ: Nope.  California Enduro Series is a non-profit organization.  Right now we are building up the organization and putting all of our funds from our sponsors directly into the series to support timing, operations, and pro-purse.  This series is fun for my husband and I to get out there and help support the local race promoters put on a great event for the riders to enjoy.
LBC: We know you are a super woman, but you couldn't possibly be doing this alone. Who else is involved with making the California Enduro Series a reality? 
MZ: There is the founding crew of 4, Steven Gemelos "Director" and yes my Husband, Erik Saunders Treasurer/Sponsorship, Michele Lamelin (pictured above) marketing, and Me.  I do the Operations at events and behind the scenes including Sponsorship. This team is a Dynamite Team!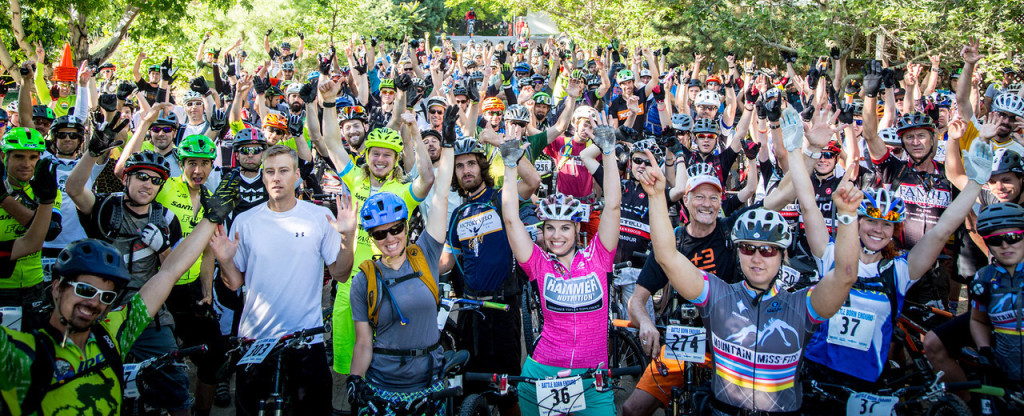 LBC: Are you planning to add more stops for 2015? Any other changes we can look forward to next season? Will you be racing Enduro next year?
MZ: Yes we are.  For 2015 we will have 7 venues with a potential 8th race.  We will be announce series dates soon.  There will some great new locates for 2015 including 2 day enduros. The focus for the series to continue to drive the community feeling of the events.  It's not just a race or race series but its a strong community amongst riders, race promoters, and sponsors.
I would love to race the series.  We are bringing on some additional volunteers to help with manning the Cali Enduro Booth which might allow me to race.  Either way its fun to help out at the events.  If I'm not racing I'll still be testing out the courses.
More about Megan:
Dirty Jane: http://www.DirtyJane.com/pages/Megan-Zemny-gemelos
LinkedIn: http://Linkedin.com/pub/megan-zemny-gemelos/6/a1b/181/